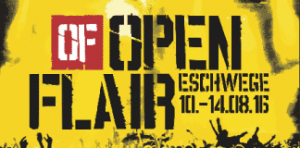 Freunde des guten Musikgeschmacks. Es ist wieder soweit. Die Temperaturen steigen und das lässt den ein oder anderen an die nahende Festival Saison denken. Ganz vorne dabei ist jedes Jahr sicherlich das Open Flair Festival in Eschwege. Ein Festival, dass fast nur aus Headlinern besteht. Wir freuen uns aber ganz besonders auf unsere Freunde von The Tips,, the fly, Rhonda, Liedfett, Jaya the Cat, Massendefekt und ganz vielen anderen… Was für ein fettes Lineup!
Allerdings kostet ein Festival dieser Grüße auch schon 129,00 € inkl. Camping. Ist aber jeden Cent wert!
Wir sehen uns vom 10. – 14.08.2016 in Eschwege.
weitere Infos: www.open-flair.de